About Us
Welcome to the Sharon Springs
Central School District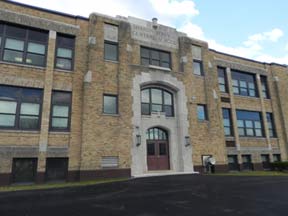 Located approximately 45 miles west of Albany and 30 miles east of Cooperstown, Sharon Springs is a small, rural community located within Schoharie County along scenic route 20, with fewer than 3,000 residents. Surrounded by rolling hills and nestled in a winding valley, according to the town's chamber of commerce, this small town prides itself on its simple, quaint features, agricultural heritage, rich historical significance and tight-knit, "community-first" values.
The hub of the community is the Sharon Springs Central School District (SSCSD) – home of the Spartans. A uniquely small district, it accommodates just 300 students (pre-kindergarten through twelfth grade) in a single building. The mission of the district is to "educate all students to become healthy, hard-working, honest and respectable citizens, who will value lifelong learning and contribute to a global society."
This mission is carried out by a nurturing, dedicated, and student-first administration and staff, who seek to provide students with positive experiences in the culture that defines SSCSD.
In a family-like atmosphere, students walk the school hallways knowing every administrator, teacher, staff member and student they pass. In addition, their classmates attend nearly every class with them from kindergarten through their senior year of high school, fostering an environment of comfort and a sense of identity that forges lifelong friendships and connections to SSCSD.
The district is proud to provide students with a strong academic program in core subjects, as well as offer full-day kindergarten, accelerated courses, distance learning courses, and a variety of electives, such as art and music.
Sharon Springs uses technology to help build key components for driving student motivation, autonomy, a sense of purpose, and mastery. Examples include:
An iPad for every student and teacher in grades 7-12.
Professional development opportunities to help teachers take ownership of broadening professional practices, from augmenting in-person instruction with digital content to creating blended learning experiences.
Desktop computers, telephones, hardcover textbooks, dictionaries, and encyclopedias, as well as mail and letters, have all been replaced by iOS mobile operating system devices and digital resources, available anytime, anywhere.
A combination of traditional, in-person instruction and online multimedia resources, such as the Schoology online learning platform and interactive digital textbooks.
In addition to the traditional academic courses, the district offers a number of sports programs across three seasons, and a wide range of clubs and extra-curricular activities.